Hyundai Value Owner Coupon Program
Loyalty is rewarding and has tremendous value. Hyundai recognizes that. To demonstrate our appreciation to loyal Hyundai drivers, Hyundai is offering a generous Value Owner Coupon Program to select current Hyundai owners who want to upgrade to the latest and greatest Hyundai automotive models, with state-of-the-art technologies.
The Hyundai Value Owner Coupon Program can earn you $500 towards a New Hyundai, just for driving the vehicle make that offers new possibilities. This incentive is available to all Hyundai Sonata and Santa Fe Sport owners from model year 2011 – 2018 and even extends to immediate family members.
In addition to this program, Hyundai offers a number of other incentives rewarding First Responders, Active Military or Military Veterans, and Recent College Graduates. Check out all of the incentives available that are designed to save you money off your next vehicle!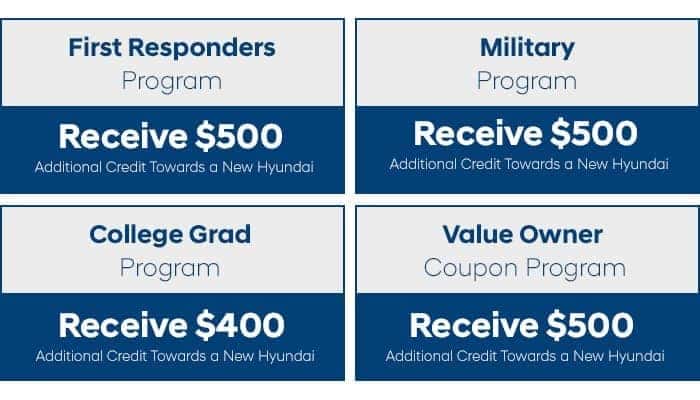 These incentives are combinable for huge savings for those who qualify and are in addition to the Hyundai incentives offered to the general public!
Check out the offers across the Hyundai lineup and explore all the ways you can save money on your next award-winning Hyundai vehicle. Drop by Schomp Hyundai today and let us show you how you can improve your lifestyle with New Thinking and New Possibilities!
Eligibility: Customers must be the registered owner of an 11MY – 18MY Sonata or Santa Fe Sport Hyundai vehicle at the commencement of the program period. • Previous owned Hyundai vehicle must have a U.S. vehicle registration; no foreign registrations will be accepted.• Customers must purchase an eligible new Hyundai vehicle from a participating Hyundai dealership. Refer to "Participating Dealerships" and "Eligible Vehicles" above. • Customers currently living with an immediate family member who is the registered owner of a Hyundai vehicle at the commencement of the program period. • An immediate family member is defined as follows: •Father/Mother •Spouses •Daughter/Son •Brother/Sister • Proof of relationship documents are as follows: • Marriage Certificate for Spouse • Birth Certificate – for Father/Mother, Daughter/Son & Brother/Sister • Previously purchased Hyundai vehicle must be distributed by HMA. • Previously purchased Hyundai vehicle may only be used once towards the purchase of a new Hyundai vehicle. • Valued Owner incentive may not be combined with Competitive Owner incentive. • Customer must take delivery of vehicle within the program period. Program period expires on January 2, 2020.